If you read world architecture magazines, you are probably aware of current trends, topics, and architectural hotspots. What seems a bit harder to learn is about the plethora of lesser-known, yet equally interesting buildings, spread throughout the corners of our planet. For some reason, it appears that the mainstream media doesn't talk about these often.
Since I have the privilege of traveling, I am constantly learning about new styles, colors, shapes, and materials firsthand. To me, good architecture is functional, fun, and handsome. Likewise, it must reflect its time and dialogue with its environment. I was surprised to find some of the best architecture in the world in places out of the spotlight. This blog is about these fascinating places!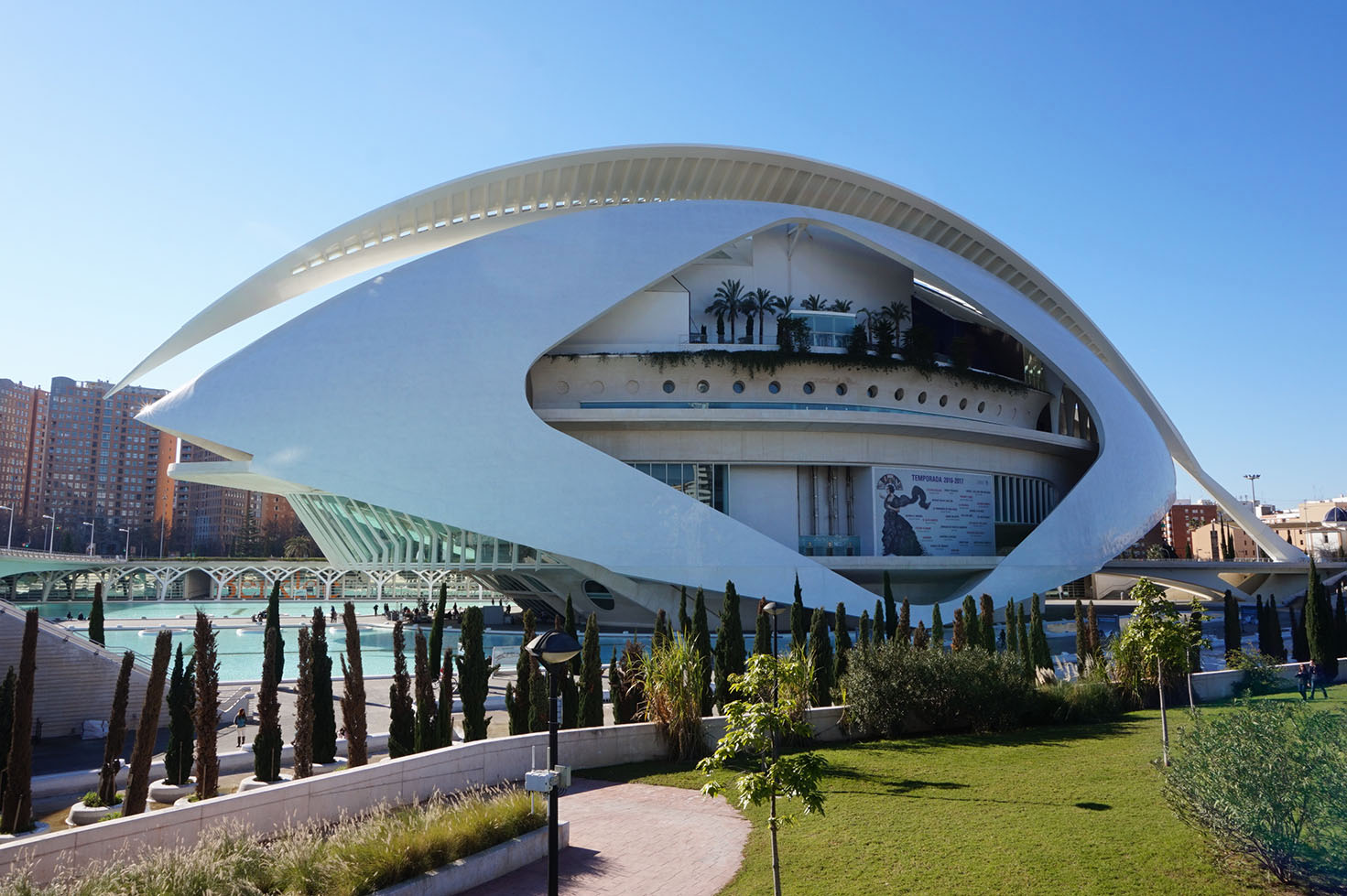 Traveling Architect
I still remember walking along Belgrade's main street holding my grandmothers' hand and watching life go by. At one point she told me to pay attention to the beautiful façades surrounding us: "Every building tells a different story. Each shows the enormous effort made by its creators". I was 12 and though I didn't really understand what she was saying, I knew someday I would become an architect.
After graduating as an Architect and Urban Planner from the University of Belgrade, I worked for different offices both in Belgrade and Barcelona. However, I got tired of spending 8 hours a day staring at a screen and drawing faceless projects. I only felt alive when traveling! Therefore, a few years ago I decided to merge my two biggest passions, Architecture and Travel. I became a traveling architect and Happy Frog Travels was born.
Architecture and Travel
Here we'll explore architecture and travel from a personal point of view. Our aim is to translate what you get from a building or a specific architectural style. Likewise, we'll dwell on how current societies dialogue with their buildings. How they affect and shape each other. In this section together we'll discuss about interesting countries, fantastic cities, and unique buildings in the world.
We'll be focusing on the best cities for architecture, as there is considerably more of it in urban areas than in the countryside. If you're a fan of modern architecture, you'll find some interesting articles among these pages. On the other hand, if your thing is historical architecture, we invite you to travel back in time with us. Since this is an ongoing project, we'll be happy to discuss any new possible topics. Let us know what you think!
Countries With the Best Architecture
Regarding architecture, I believe some countries deserve a special mention. Again, we are referring to the less famous ones. Who would have thought that Georgia is one of the countries with the best architecture in the entire world? It may sound like an overstatement, but I'm sure you will agree with us as soon as you visit this extraordinary country. Another marvelous surprise comes from the world's most populous country. Indeed, people rightly talk about Japan and South Korea, but what about China? I couldn't believe how incredible its cities are. They host everything, from ancient neighborhoods to super cool futuristic buildings.
Architecture of Georgia 
Like most of you I didn't know much about Georgian architecture. I had no clue of the country's rich past. Exactly, Georgia is one of the culturally most diverse countries in the world. The Persian, Russian, and Ottoman cultures can be seen all around the country. Even more, locals have somehow managed to incorporate these different influences into a unique style. From its amazing capital Tbilisi, to the colorful seaside resort of Batumi, Georgian architecture will surprise you. In Georgia you will find ancient stone towers, monasteries, medieval fortresses, traditional houses and a vast collection of neoclassical, art nouveau, cool socialist and ultra-modern architecture.
Chinese Megacities
China inspired me to the bone! I loved everything about it. To be honest, I did expect great nature and ancient architecture. However, I didn't think I would like its megacities. For the love of God, what a brilliant surprise! The big cities I visited are full of historical heritage, beautiful parks and super-cool ultramodern towers. These towers showcase China's impressive economic growth:  those built 10 or 15 years ago seem pretty basic, but the newer ones are truly gorgeous. Additionally, I was amazed at how pedestrian friendly these cities are, with wide sidewalks, long pedestrian streets and many green areas. One of them has an outstanding natural site right in its center.
Vernacular Architecture Around the World
The term vernacular architecture generally refers to traditional architecture built without the help of architects. Though we all know what countryside houses around us look like, there are some truly unique examples in other parts of the planet. Again, some examples are more attractive than others. For a short time, I worked on a project to preserve traditional villages in Eastern Serbia. Then I went to Syria and was blown away by the egg-shaped houses that adorn its dessert towns. It's interesting to see just how sustainable these old dwellings are.
Syrian Beehive Houses
Unique types of vernacular architecture fascinate me. The wonderful beehive houses are traditional dwellings common in the desert area of Northern Syria. It seems that millenary lava flows created the original conical formations, their ancestors. A typical beehive house is a round-shaped building with thick walls and a high dome. It is made of adobe, mud and straw, and adapts perfectly to the surrounding harsh climate. There are plenty of beehive houses in Northern Syria. That is if they survive the cruel civil war currently going. Hopefully, the carnage will end soon, and we'll be able to rediscover these authentic structures.
Heritage Cities Around the World
What we are told as kids conditions us forever. That's why most people consider European cities beautiful. I won't argue about that. However, travel around Europe for a while, and cities start to look alike. We focus on lesser-known heritage cities around the world: from Southeast Asia to Russia. Due to unique historical circumstances, these cities bear a distinct mark. On the other hand, some cities across Europe share an unusual past. Such is the case of the cities of the so-called Hanseatic League. For some unknown reason, almost nobody talks about them.
Heritage Cities of Southeast Asia
Before going to Southeast Asia I always wondered if its urban areas still had any heritage. I knew about the archeological sites of Angkor Wat and Borobudur, but I didn't know what to expect from its cities. I happily discovered that most of the region's big cities have fantastic historical architecture. Even more, there are some incredible well preserved historical towns too.  With the exception of Thailand, every country was at one point a colony of one or several European countries (sad but true). Therefore, you can see French heritage in Laos, Cambodia and Vietnam, British in Myanmar, Malaysia and Singapore, Dutch in Indonesia and Spanish in the Philippines. On top of that, Chinese and Japanese heritage is everywhere.
Cities of the Hanseatic League
On my extensive travels around Central and Northern Europe I noticed that many places looked similar. I saw plenty of multi-storey buildings with steep roofs and crow-stepped gables made of red and brown brick across Germany, The Netherlands, Poland, Belgium and the Baltic States. It was obvious to my eyes that something linked these beauties: they had all belonged to the so-called Hanseatic League. During the late middle ages and early modern times, this association of trade cities stretched all along the Baltic Sea coast. Though most were port towns on the Baltic coast, their influence reached Norway and Russia. 
Golden Ring of Russia
A group of historical cities and towns close to Moscow called the Golden Ring of Russia is my biggest Russian discovery. The Ring refers to over a dozen cities located along a circular route through different districts. They all have in common a vast medieval heritage that includes churches, monasteries, Kremlins and citadels. Nevertheless, these cities and towns have different sizes and structures. While some are more like villages, others are relatively large cities. Since different lists mentioned different places, Soviet Authorities decided to create an official list with only eight cities. Our favorites are the smallest ones: fairy tale towns where time seems to have stopped.
Planned Cities
Large scale construction and urban planning marked the 20th Century. It was also the century of big geopolitical changes. Several countries around the world moved their capitals to populate remote areas. Thus, governments built new capitals from scratch. Other capitals got a brand new extension. People at the time praised the daring planning. However, nowadays we know how successful they've become. Brasilia, for instance, is rightly considered one of the best-planned cities in the world. Nevertheless, it feels more like a bunch of suburbs brought together. That said, it hosts some astonishing examples of modern architecture.
Architecture of Brasília
Brasília is a perfect example of a XX Century planned city. In 1956, Lucio Costa won the state organized competition to design and build a city to attract people to the centre of Brazil. He planned a city in the shape of a cross with two main axis intersecting in the center. A young Oscar Niemeyer designed most of the public buildings and became a legend. As you can see from the pictures, Brasilia is truly beautiful, but how does it function as a city? After 5 days there, I realized that the city lacks the most important ingredient: social interaction. Brasília's streets were made for cars and there are no public spaces, except for the nice green areas around buildings.
New Belgrade's Open Blocks
I grew up in New Belgrade, the post-war district located between the two old cities of Belgrade and Zemun. Unlike Old Belgrade's traditional streets with buildings full of content, in New Belgrade everything is upside down. Huge streets surround the buildings with nothing but green spaces within the blocks. As time passed, New Belgrade gradually became one of Belgrade's most important areas. A massive densification process is filling up the remaining few empty blocks. This goes against New Belgrade's original concept of an open city that breaths. This post is a resume of my master thesis 'The evolution of open block in new Belgrade'.
Weird Unique Cities
Modern architecture and urban planning dominated the middle of the 20th century. However, by the turn of the century, the concept of modernity was questioned, giving birth to postmodernism. Things moved even further when extravagant architecture came into the spotlight. Some countries even decided to boost tourism through unique and weird cities. Guided by nationalism, cities such as Skopje executed a massive overhaul. The city did attract international attention, but for the wrong reasons. It became a bad version of Disneyland. Other cities, like Batumi, experimented a bit more. What came to be is a varied and interesting city.
Skopje, Macedonia's Bizarre Capital
I remember a book I read while studying architecture that talked about Las Vegas as a bad example of architecture and urban planning. I would have never imagined that a city near my hometown could be a much better example: Skopje. It's hard to believe that the city was beautifully reconstructed after the devastating earthquake of 1963. How could they do it so bad this time around? The idea was to revamp the city with an exaltation of Alexander the Great. Called Skopje 2014 it ended as a mixture of false grandeur and bad taste. However, not all is bad. The city has a very nice Old Town and is surrounded by green mountains.
Batumi's Unique Architecture
What I love the most about Georgian architecture are its multiple layers. Though the whole country boasts outstanding architecture, you will find a plethora of styles, colors, and shapes in its three main cities. Regarding architecture, Batumi is probably the most interesting one. Since it became a port for oil transport in the early 20th century, the city invested massively in lavish architecture to showcase its wealth. They did it again a hundred years later. This time, however, with outrageous architecture. You may love it or hate it, but you surely won't forget Batumi. We love it!
20th Century Architectural Styles
Architectural styles dominated entire centuries and would sometimes last for a few hundred years. However, during the last century, industries developed rapidly, allowing for architecture to break unimaginable limits. That's why 20th century architecture evolved so much. At the beginning of the 20th century, several regional architectural styles appeared. Commonly known as Art Nouveau and essentially traditional, the style is all about decorations. Architecture would become international throughout the rest of the century. What we call modern architecture came to be and conquered the world. In the meantime, several schools and unique styles marked important cities around the globe.
Catalan Modernism in Barcelona
Catalan modernism was the topic of my first architecture post. I've been living in Barcelona for the last 12 years admiring its beautiful architecture. In my opinion nothing distinguishes Barcelona as much as the so called 'Catalan Modernist' buildings. These are the Catalan interpretation of the world known Art Nouveau style, and there are tones of them all over the city. In Barcelona buildings have more decorations, colors and shapes than anywhere else. In fact, these masterpieces blend Gothic and Moorish architecture perfectly with Catalan creativity. The style was dominant at the turn of the 20th Century when Barcelona was flourishing, thus its lavish design.
Cubist Architecture in Prague
Cubism emerged as an artistic style at the beginning of the 20th century. It gradually spread all around the world, and soon inspired a new architectural style: Czech Cubism. Though Czech cubism lived just a few years before World War I, it had a huge impact on Prague's urban landscape. Unique geometry adorns cubist buildings. Three-dimensional crystal shapes and forms cover façades from top to bottom. After the war, the style evolved into the so-called Rondocubism. It acquired round shapes, folkloric decorations, and color. Though Prague hosts outstanding architecture from different historical periods, it is Czech Cubism that makes it truly unique.
Art Deco Architecture in Paris
Paris is famous around the world for its gorgeous architecture. Though it comes in every shape and color, one style marked the city like no other. Few people know that Art Deco architecture was born in Paris in 1925, during the International Exhibition of Modern Decorative and Industrial Arts. The style is all about unique decorations, geometrical and abstract forms, oriental colors, and lovely shapes. Art Deco buildings mushroomed all around Paris. Some of the best Art Deco structures are public venues. We are talking about grand exhibition centers, cinemas, department stores, swimming pools, and churches. Besides, for several decades, most residential buildings in Paris followed art deco principles.
Brick Expressionism in Hamburg
Expressionism was the answer to a changing world. The movement was born in Germany. With new technology, architects were able to create never before seen shapes. Every building had to be bold and original. Brick expressionism flourished in cities like Hannover, Essen, or Gelsenkirchen. However, the style reached international fame in Hamburg. The city is home to the UNESCO-listed Kontorhaus District, an architect's dream.  But that's not all. Expressionist residential buildings, offices, and factories dot Hamburg. There is even a brick cemetery!
Bauhaus Architecture in Tel Aviv
Regarding architecture, Tel Aviv is an extraordinary city for one reason: it houses the world's largest number of Bauhaus buildings. After the Bauhaus school closed its doors in 1933, many of its professors and students emigrated to all corners of the world. Some of them ended up in Tel Aviv. The cheap costs and mass-produced materials of Bauhaus were perfect for the city. During the 30s and 40s, over 4000 Bauhaus inspired buildings came to light all around Tel Aviv. What's more, in 2003, UNESCO included the area in its World Heritage List under the name The White City of Tel Aviv. Walking about the city discovering buildings is such a pleasure. In fact, one of my favorite spots is a fantastic Bauhaus square.
Helsinki Modern and Contemporary Architecture
Without a doubt, modern and contemporary architecture aficionados must visit Helsinki. Finland's charming capital is home to some of Europe's most exquisite architecture from the 20th and 21st centuries. Wonderful architecture is everywhere, including museums, music halls, libraries, churches, office towers, universities, and stadiums. Even more, the city has an entire neighborhood full of first-class modern and contemporary architecture: Töölönlahti cultural quarter. One of our idols lived and worked in the city for over 40 years: renowned Finish architect Alvar Aalto. Thanks to him, Helsinki shines in the world's architecture spotlight.
Elements of Urban Design
For those of us who love cities, buildings are not everything. I find elements of urban design equally interesting. Before visiting Stockholm, Moscow, and Lisbon, I didn't think of metro stations as art spaces. Since then, I have realized the world has several metro systems worth visiting solely for their outstanding architecture. When it comes to parks, it's usually the quality of landscape design that distinguishes one from another. But sometimes architects step in and create the perfect symbiosis of nature and architecture. Just think of the spectacular Gardens by the Bay in Singapore.
Stockholm Metro System
One of my biggest passions is street art. To me, the gorgeous Stockholm Metro Stations feel like giant pieces of street art. While in Stockholm I took a guided tour around the Metro and learned a bit about its history, names and designs. I liked it so much, that I spent an extra day visiting far away stations. Though the stations are pretty, I think the whole 'The Biggest Art Gallery in the World' thing is a bit exaggerated. Some stations have basic designs with different colored tiles. At the same time, I think the symbolism used in many stations is very clever. Many bear the name of their location and designed in a way to evoke the purpose of such place. Likewise, I enjoyed seeing how design concepts change over time.
Singapore's Gardens by the Bay
Without a doubt, Singapore's Gardens by the Bay is one of the world's most spectacular urban parks. The Gardens are part of a bigger project that envisions Singapore inside a park. It has a privileged location: reclaimed land between the city center and the ocean. Its architecture is superior too: everything is perfectly tailored, from the cool tall trees to the elegant conservatories. The so-called Supertrees have become so iconic that you can see them on most of Singapore postcards! More importantly, rest assured that plants are well taken care of. With top-notch technology, everything follows sustainability principles.